Kia Soul EV: High Voltage Battery Control System / Main Fuse Description and Operation
Installed in the safety plug, the main fuse protects the high voltage circuit from overcurrent.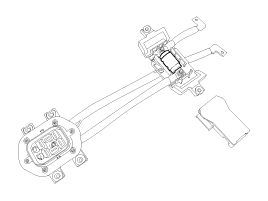 Specification ItemSpecificationRated Voltage (V)450 (DC)Rated Current (A)250 (DC) ItemSpecificationRemarkSafety Plug Cable Resistance (?)Less than 1 (20°C)Checkable by multi testerMain Fu ...
System Circuit Diagram Circuit Diagram ...
Other information:
Inspection 1. Check for resistance or output voltage between terminals in each switch position. [Audio] SwitchConnector terminalResistance (±5%)Output voltageSeek up2-4430 ?0.4 V ± 0.22Seek down2-41.1 k?1.0 V ± 0.22Mode2-42.11 k?1.5 V ± 0.22Mute2-43.11 k?2.0 V ± 0.22Volume up2-44.61 k?2 ...
Component Location 1. Rear seat back cover [LH]2. Rear seat back cover [RH] ...
Copyright © www.ksoulev.com 2020-2021