Kia Soul EV: High Voltage Battery Control System / Main Fuse Description and Operation
Installed in the safety plug, the main fuse protects the high voltage circuit from overcurrent.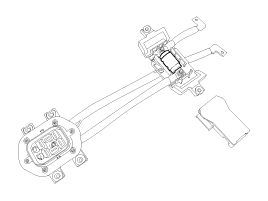 Specification ItemSpecificationRated Voltage (V)450 (DC)Rated Current (A)250 (DC) ItemSpecificationRemarkSafety Plug Cable Resistance (?)Less than 1 (20°C)Checkable by multi testerMain Fu ...
System Circuit Diagram Circuit Diagram ...
Other information:
Replacement 1. Drain the coolant. (Refer to Traction Motor System - "Coolant") 2. Disconnect the negative (-) battery terminal. 3. Disconnect the 3-WAY solenoid coolant valve connector (A). 4. Remove the 3-WAY coolant valve connector fixing clip (B). 5. Remove the coolant hose ( ...
Description Mode of Operation ASIC Mode 1. Factory Mode The factory mode is the mode that allows the TPM sensor to transmit RF Frames and sample LF more often in the HKMC factory. The TPM sensor will send normal RF frames in factory mode. LF sampling will occur every 1 second, to ensu ...