Kia Soul EV: ESP(Electronic Stability Program) System / Yaw-rate and Lateral G Sensor Description and Operation
The yaw rate and G sensor is included inside the air bag control module (SRSCM).
When the vehicle is turning with respect to a vertical axis the yaw rate sensor detects the yaw rate electronically by the vibration change of plate fork inside the yaw rate sensor.
If yaw velocity reaches the specific velocity after it detects the vehicle''s yawing, the ESC control is reactivated.
The lateral G sensor senses vehicle''s lateral G. A small element inside the sensor is attached to a deflectable lever arm by the lateral G
Direction and magnitude of lateral G loaded to vehicle can be known by the change in electrostatic capacity according to lateral G.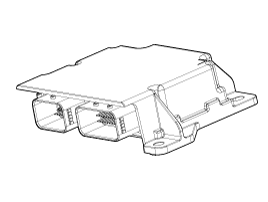 Specifications
Description




Specification




Remarks




Operating voltage




8 ~ 16V






Output signal




CAN Interface






Operating temperature




-40 ~ 85°C (-40 ~ 185°F)






Yaw-rate sensor




Measurement range




± 100°/sec






G sensor




Measurement range




± 1.8 g





Removal 1. Remove the rear wheel & tire. Tightening torque: 88.3 ~ 107.9 N.m (9.0 ~ 11.0 kgf.m, 65.1 ~ 79.6 lb-ft) 2. Remove the rear wheel speed sensor. (Refer to Driveshaft and ...
Removal 1. Remove the ignition key from the vehicle. 2. Disconnect the battery negative cable and wait for at least three minutes before beginning to work. 3. Disconnect the DAB, PAB, SAB, ...
Other information:
Removal Main Relay, Pre Charge Relay, Pre Charge Resistor, Battery Current Sensor, High Voltage Battery Heater Relay and the High Voltage Battery Heater Fuse are integrated in the Power Relay Assembly (PRA). So Refer to the removal procedure of Power Relay Assem ...
Component Location 1. Back view camera2. AVN head unit ...