Kia Soul EV: High Voltage Battery System / Power Relay Assembly (PRA) Description and Operation
Power relay assembly (PRA) is installed in the high voltage battery system assembly and it consists of main relays which control the high voltage, pre-charge relay, pre-charge resister and battery current sensor. PRA controls high voltage of 360V between the high voltage battery pack and the high voltage joint box by BMS ECU control signal.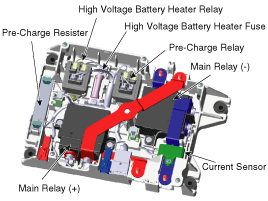 Inspection When removing the battery pack assembly to inspect the battery system, it can be connected to vehicle by using the SST 0K918-E4100, 0K375-E4100, 0K375-E4 ...
Removal • Be sure to read and follow the "General Safety Information and Caution" before doing any work related with the high voltage system. Failure t ...
Other information:
Inspection 1. Turn the ignition switch OFF. 2. Disconnect ambient temperature sensor. 3. Check the resistance of the ambient temperature sensor between terminals 1 and 2 whether it is changed by changing of the ambient temperature. 1. Sensor Ground2. Ambient Sensor Signal Speci ...
Specifications Front Suspension ItemSpecificationSuspension typeMacPherson StrutShock absorber TypeGasCoil springFree Height [I.D. color]327.9mm (12.9842 in.) [Violet - Yellow] Rear Suspension ItemSpecificationSuspension typeTorsion Beam AxleShock absorber TypeGas (Mono tube)Coil s ...
Copyright © www.ksoulev.com 2020-2022