Kia Soul EV: High Voltage Battery Control System / High Voltage Battery Heater Relay Description and Operation
High Voltage Battery Heater Relay is installed in the Power Relay Assembly (PRA).
It supplies high voltage flow inside the heater to operate the heater to warm the high voltage battery.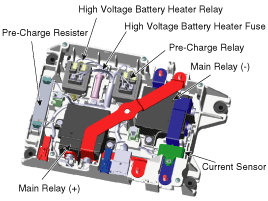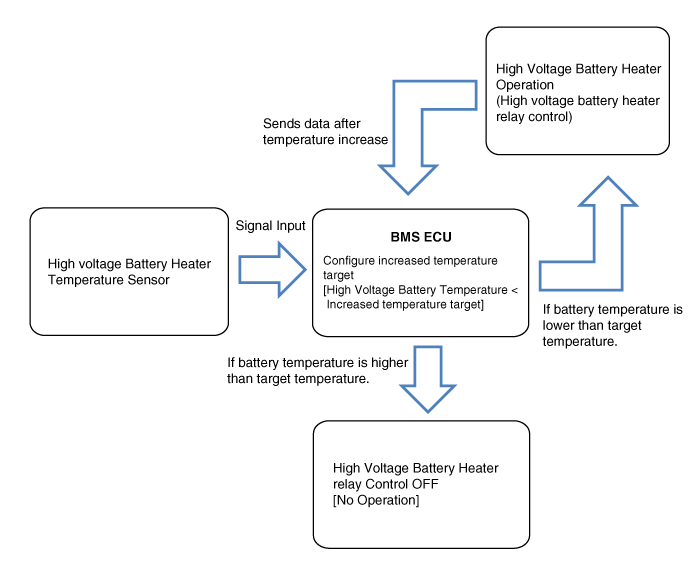 Component 1. Battery Heater2. Battery Heater Relay3. Battery Heater Fuse4. Battery Heater Temperature Sensor ...
System Circuit Diagram Circuit Diagram ...
Other information:
Inspection 1. Turn the ignition switch OFF. 2. Shut off the high voltage. (Refer to Battery Control System - "High Voltage Shut-off Prcedure") 3. Remove the high voltage battery system assembly. (Refer to High Voltage Battery System - Repair procedures - "Removal") 4. Remove the hi ...
System Diagram OBC: ON-Board Charger QRA: Quick Charge Relay Assembly PRA: Power Relay Assembly EWP: Electronic Water Pump EPCU: Electronic Power Control Unit [LDC + Inverter + VCU] ...
Copyright © www.ksoulev.com 2020-2022