Kia Soul EV: Air Conditioning System / Evaporator Temperature Sensor Description and Operation
The evaporator temperature sensor will detect the evaporator core temperature and interrupt compressor relay power in order to prevent evaporator from freezing by excessive cooling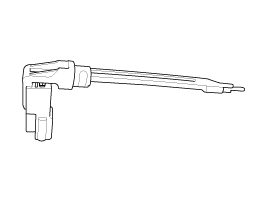 Inspection 1. Measure the pressure of high pressure line by measuring voltage output between terminals No. 1 and No. 2. 2. Inspect the voltage value whether it is within the specified range. ...
Inspection 1. Turn the ignition switch OFF. 2. Disconnect the evaporator temperature sensor connector. 3. Measure the resistance between terminals "1" and "2" of the evaporator temperature ...
Other information:
Description The system temperature is calculated by the BMS based on 8 temperature sensor signals. And the cooling fan is conrolled in 9 steps to maintain the normal temperature of high voltage battery system. The air-cooling method is applied in the cooling system where indoor air is used ...
Troubleshooting Fault codeFail descriptionRemedy61Compressor CAN signal faultCompressor operation state error receive1. Check HV, LV connector connection. 2. Check LV connector pin condition. 3. Check vehicle inverter fuse condition. 4. A/C ON then check compressor operatio ...