Kia Soul EV: Air Conditioning System / Evaporator Temperature Sensor Description and Operation
The evaporator temperature sensor will detect the evaporator core temperature and interrupt compressor relay power in order to prevent evaporator from freezing by excessive cooling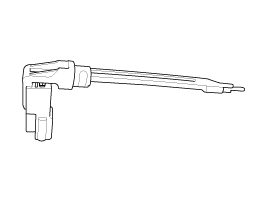 Inspection 1. Measure the pressure of high pressure line by measuring voltage output between terminals No. 1 and No. 2. 2. Inspect the voltage value whether it is within the specified range. ...
Inspection 1. Turn the ignition switch OFF. 2. Disconnect the evaporator temperature sensor connector. 3. Measure the resistance between terminals "1" and "2" of the evaporator temperature ...
Other information:
Troubleshooting Troubleshooting (Step type) SymptomSuspected areaRepairmentPOWER (Turn on, Turn off by itself, Freezes)Check the connectionR-1Audio H/UR-2FREEZESBluetooth issueR-3Check the RESETR-4NO DISPLAYCheck the connectionR-2Lines/SpotLCD MODULER-5No BacklightLCD MODULER-5Touch INOPLCD ...
Removal • Put on gloves to protect your hands. • Use seat covers to avoid damaging any surfaces. 1. Remove both sides of the front pillar trim. (Refer to Interior Trim - "Front Pillar Trim") 2. Remove bot ...