Kia Soul EV: Air Conditioning System / Evaporator Temperature Sensor Description and Operation
The evaporator temperature sensor will detect the evaporator core temperature and interrupt compressor relay power in order to prevent evaporator from freezing by excessive cooling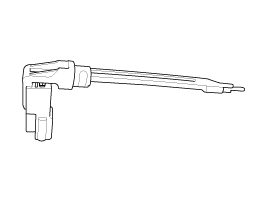 Inspection 1. Measure the pressure of high pressure line by measuring voltage output between terminals No. 1 and No. 2. 2. Inspect the voltage value whether it is within the specified range. ...
Inspection 1. Turn the ignition switch OFF. 2. Disconnect the evaporator temperature sensor connector. 3. Measure the resistance between terminals "1" and "2" of the evaporator temperature ...
Other information:
High Voltage Battery Heater Fuse It is connected to battery heater relay switch and it cuts off the circuit in case of overcurrent. It is installed in the Power Relay Assembly (PRA).Operation ...
Components Connector Pin Information No.Connector A (24 pin)Connector B (20 pin)Connector C (26 pin)Connector D (16 pin)1Battery (+)LIN (PAS)Washer motor power-2IGN 1Fuel filler (Charge door) actuator relayFront washer motor-3IGN 2LS CAN high--4Brake switchLS CAN lowMirror unfold relayMi ...