Kia Soul EV: Air Conditioning System / Evaporator Temperature Sensor Description and Operation
The evaporator temperature sensor will detect the evaporator core temperature and interrupt compressor relay power in order to prevent evaporator from freezing by excessive cooling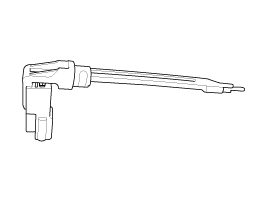 Inspection 1. Measure the pressure of high pressure line by measuring voltage output between terminals No. 1 and No. 2. 2. Inspect the voltage value whether it is within the specified range. ...
Inspection 1. Turn the ignition switch OFF. 2. Disconnect the evaporator temperature sensor connector. 3. Measure the resistance between terminals "1" and "2" of the evaporator temperature ...
Other information:
Description Back view camera will activate when the backup light is ON with the ignition switch ON and the shift lever in the R position. This supplemental system shows the back of the vehicle on the monitor when the vehicle is backing up. This system is a supplment ...
Removal • In order to remove the panorama sunroof assembly, use the tools shown in the following figure: [Tooling Diagram] Square wire Insert-type wire grip [Tooling Assembly Diagram] • Insert and affix square wire into the insert hole of ...