Kia Soul EV: Air Conditioning System / Evaporator Temperature Sensor Description and Operation
The evaporator temperature sensor will detect the evaporator core temperature and interrupt compressor relay power in order to prevent evaporator from freezing by excessive cooling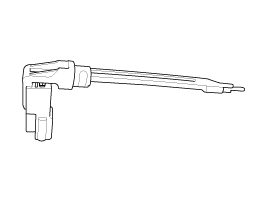 Inspection 1. Measure the pressure of high pressure line by measuring voltage output between terminals No. 1 and No. 2. 2. Inspect the voltage value whether it is within the specified range. ...
Inspection 1. Turn the ignition switch OFF. 2. Disconnect the evaporator temperature sensor connector. 3. Measure the resistance between terminals "1" and "2" of the evaporator temperature ...
Other information:
Description In normal charge, the battery is charged through the On-Board Charger (OBC) using external power supply of 220V. On-Board Charger (OBC) is the equipment that charges the high voltage battery of electric vehicle using the 110 ~ 220V AC power. Its maximum output is 6.6 kW and the e ...
General Troubleshooting Information Before Troubleshooting 1. Check applicable fuses in the appropriate fuse/relay box. 2. Using KIA approved battery tester, check the battery condition. Check the battery for damage and clean / tight connections. (Refer to Engine Electrical System - "Batte ...
Copyright © www.ksoulev.com 2020-2021