Kia Soul EV: High Voltage Battery Cooling System / Description and Operation
The system temperature is calculated by the BMS based on 8 temperature sensor signals. And the cooling fan is conrolled in 9 steps to maintain the normal temperature of high voltage battery system.
The air-cooling method is applied in the cooling system where indoor air is used to cool down the high voltage battery pack assembly.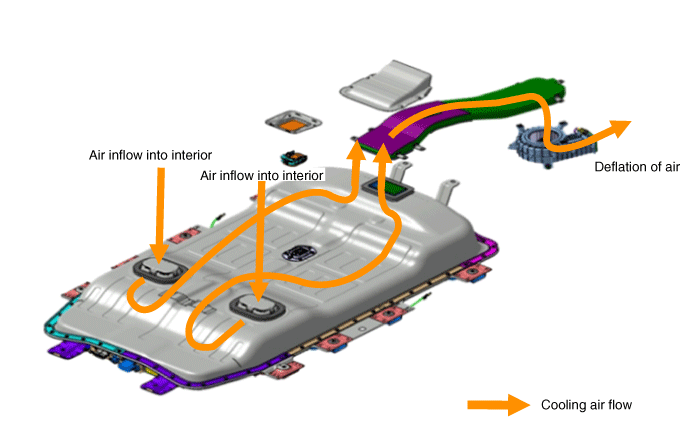 2. Indoor air flows into the cooling duct (inlet).
3. Cools down the high voltage battery in the direction of the arrows.
4. Air is ventilated out through the cooling duct (outlet).
Component High Voltage Battery 1. Cooling Fan2. Outlet Cooling Duct3. Protector Outlet Duct Panel4. Battery Module Outlet Duct5. Inlet Temperature Sensor Vehicle 1. Cooling Fan Relay ...
Specification Cooling Fan SpeedDuty (%)Fan Speed(rpm)0 0011090022012003301500440180055021006602450770260088028009903000 ...
Other information:
Inspection 1. Turn the ignition switch OFF. 2. Disconnect the temperature control actuator connector. 3. Verify that the temperature control actuator operates to the cool position when 12V is connected to terminal 3 and ground to terminal 7. Verify that the temperature control actua ...
Inspection Fog Lamp Switch 1. With the fog lamp switch in each position, make sure that continuity exists between the following terminals. If continuity is not as specified, replace the multifunction switch. Removal Front Fog Lamp 1. Disconnect the negative (-) battery terminal. 2. ...
Copyright © www.ksoulev.com 2020-2022