Kia Soul EV: High Voltage Battery Cooling System / Description and Operation
The system temperature is calculated by the BMS based on 8 temperature sensor signals. And the cooling fan is conrolled in 9 steps to maintain the normal temperature of high voltage battery system.
The air-cooling method is applied in the cooling system where indoor air is used to cool down the high voltage battery pack assembly.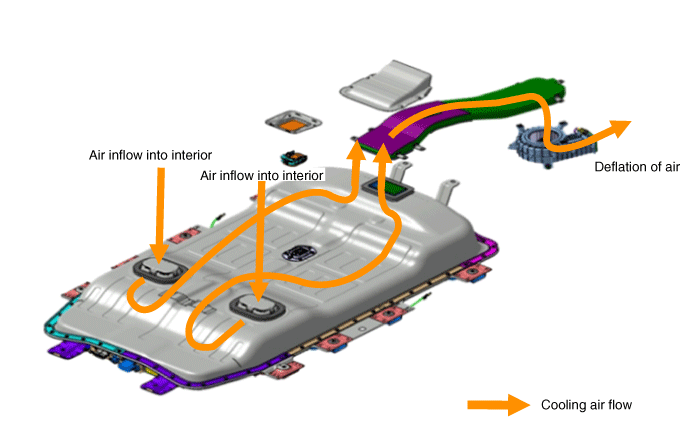 2. Indoor air flows into the cooling duct (inlet).
3. Cools down the high voltage battery in the direction of the arrows.
4. Air is ventilated out through the cooling duct (outlet).
Component High Voltage Battery 1. Cooling Fan2. Outlet Cooling Duct3. Protector Outlet Duct Panel4. Battery Module Outlet Duct5. Inlet Temperature Sensor Vehicle 1. Cooling Fan Relay ...
Specification Cooling Fan SpeedDuty (%)Fan Speed(rpm)0 0011090022012003301500440180055021006602450770260088028009903000 ...
Other information:
Inspection Radiator hoses 1. Check radiator hoses for the following (1) Improper attachment (2) Leaks (3) Cracks (4) Damage (5) Loose connections (6) Chafing (7) Deterioration Coolant level 1. Check the coolant level in the coolant reservoir. Make sure it is bet ...
Inspection 1. Check the steering wheel free road. (1) Turn the steering wheel so that the front wheels are facing straight ahead. (2) Measure the distance where the steering wheel can be turned without moving the front wheels. Standard value: 30mm (1.18in.) or less (3) If the pla ...