Kia Soul EV: High Voltage Battery Cooling System / Description and Operation
The system temperature is calculated by the BMS based on 8 temperature sensor signals. And the cooling fan is conrolled in 9 steps to maintain the normal temperature of high voltage battery system.
The air-cooling method is applied in the cooling system where indoor air is used to cool down the high voltage battery pack assembly.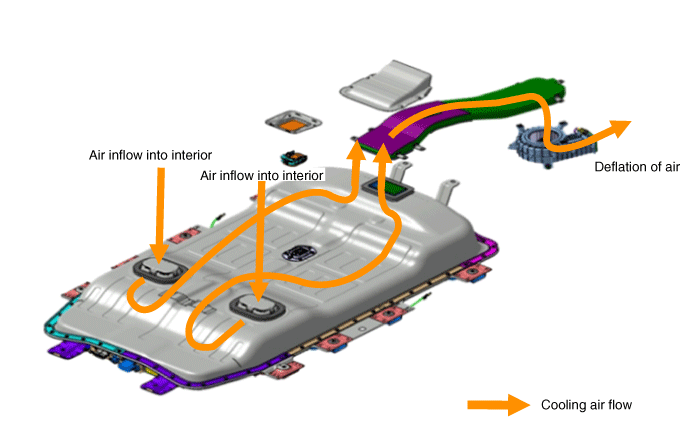 2. Indoor air flows into the cooling duct (inlet).
3. Cools down the high voltage battery in the direction of the arrows.
4. Air is ventilated out through the cooling duct (outlet).
Component High Voltage Battery 1. Cooling Fan2. Outlet Cooling Duct3. Protector Outlet Duct Panel4. Battery Module Outlet Duct5. Inlet Temperature Sensor Vehicle 1. Cooling Fan Relay ...
Specification Cooling Fan SpeedDuty (%)Fan Speed(rpm)0 0011090022012003301500440180055021006602450770260088028009903000 ...
Other information:
Description When manually selected, the heated steering wheel system improves the thermal comfort of the driver by heating the steering wheel. 1. Heate control unit 2. Heated pad Specifications ItemSpecificationstandardminimummaximumVoltage13.5 V9 V16 VHeated pad resistance1.73?1.56 ...
Replacement When the receiver first arrives for replacement: a. It will be in Virgin State. b. It will not be configured for any specific platform. c. It will not have any sensor ID''s memorized. It is important to make sure ...