Kia Soul EV: High Voltage Battery Cooling System / Description and Operation
The system temperature is calculated by the BMS based on 8 temperature sensor signals. And the cooling fan is conrolled in 9 steps to maintain the normal temperature of high voltage battery system.
The air-cooling method is applied in the cooling system where indoor air is used to cool down the high voltage battery pack assembly.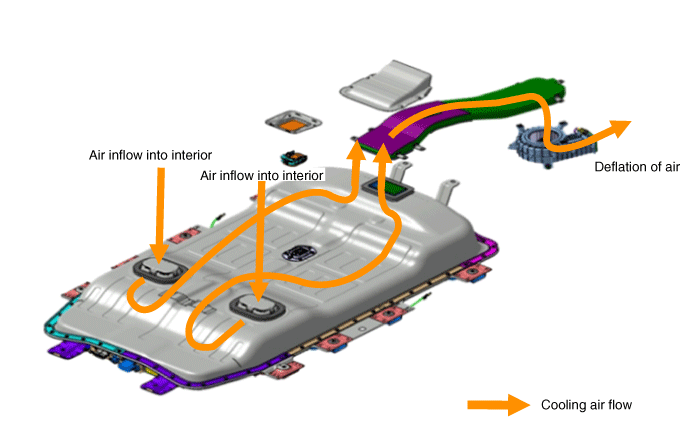 2. Indoor air flows into the cooling duct (inlet).
3. Cools down the high voltage battery in the direction of the arrows.
4. Air is ventilated out through the cooling duct (outlet).
Component High Voltage Battery 1. Cooling Fan2. Outlet Cooling Duct3. Protector Outlet Duct Panel4. Battery Module Outlet Duct5. Inlet Temperature Sensor Vehicle 1. Cooling Fan Relay ...
Specification Cooling Fan SpeedDuty (%)Fan Speed(rpm)0 0011090022012003301500440180055021006602450770260088028009903000 ...
Other information:
Removal 1. Loosen the windshield wiper arm nut (B) after removing the wiper cap (A). 2. Remove the windshield wiper arm and blade. 3. If necessary, release the wiper blade fixing clip by pulling up and remove the wiper blade from the inside radius of wiper arm. 4. Disconnect the wash ...
Components Connector Pin Information No.DescriptionNo.Description1Ground signal 3 (Power ground)21Trip switch (-) input2Illumination output (-)22Trip switch 1 (+) input(Trip button)3Rheostat switch down input23Trip switch 2 (+) input(Cruise button)4Rheostat switch up input24-5Detent output (+) ...
Copyright © www.ksoulev.com 2020-2021