Kia Soul EV: High Voltage Battery Cooling System / Description and Operation
The system temperature is calculated by the BMS based on 8 temperature sensor signals. And the cooling fan is conrolled in 9 steps to maintain the normal temperature of high voltage battery system.
The air-cooling method is applied in the cooling system where indoor air is used to cool down the high voltage battery pack assembly.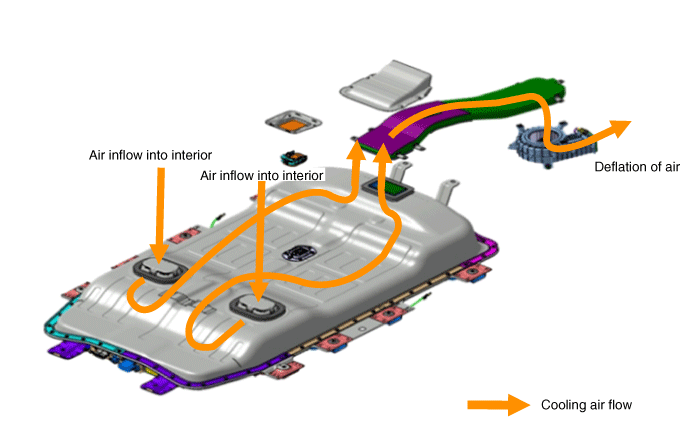 2. Indoor air flows into the cooling duct (inlet).
3. Cools down the high voltage battery in the direction of the arrows.
4. Air is ventilated out through the cooling duct (outlet).
Component High Voltage Battery 1. Cooling Fan2. Outlet Cooling Duct3. Protector Outlet Duct Panel4. Battery Module Outlet Duct5. Inlet Temperature Sensor Vehicle 1. Cooling Fan Relay ...
Specification Cooling Fan SpeedDuty (%)Fan Speed(rpm)0 0011090022012003301500440180055021006602450770260088028009903000 ...
Other information:
Specification MotorJoint typeMax. permissible angleOuterInnerOuterInner80KWBJ#92TJ#9245°21° Tightening Torques ItemN.mkgf.mIb.ftFrontTire wheel hub nuts88.3 ~ 107.99.0 ~ 11.065.1 ~ 79.6Drive shaft coking nut274.6 ~ 294.228.0 ~ 30.0202.5 ~ 217.0Strut assembly to knuckle137.3 ~ 156.914.0 ...
Inspection 1. Troubleshooting for Speaker (1) Basic inspection of speaker Inspect the sound from speaker after verifying that the speaker mounting screws is removed and the wiring connector is connected precisely to remove vibration transmitted from body trims and surrounding parts. ...