Kia Soul EV: High Voltage Battery Control System / Safety Plug Description and Operation
Safety Plug is installed on the bottom of the rear seat. High voltage circuit can be shut off by removing the safety plug.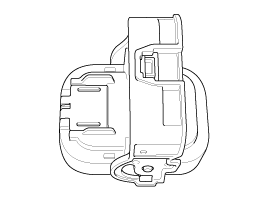 Inspection 1. Turn the ignition switch OFF. 2. Shut off the high voltage. (Refer to Battery Control System - "High Voltage Shut-off Prcedure") 3. Remove the high voltage battery system as ...
System Circuit Diagram Circuit Diagram ...
Other information:
Components 1. Front seat belt pretensioner2. Height adjuster3. Rear seat belt retractor4. Rear seat belt buckle [LH]5. Rear seat belt buckle [RH] ...
Specification Air Conditioner ItemSpecificationCompressorTypeESC33n (Electric Scroll)Communication typeCAN communicationOil type & CapacityPOE OIL, 180±10gMotor typeBLDCRated voltage360VOperation voltage240~413VDisplacement33cc/revCondensorHeat rejection13,400 -3% kcal/hrAir pressure tran ...
Copyright © www.ksoulev.com 2020-2021