Kia Soul EV: High Voltage Charging System / ON-Board Charger (OBC) Description and Operation
In normal charge, the battery is charged through the On-Board Charger (OBC) using external power supply of 220V.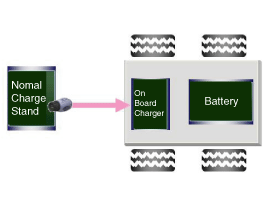 On-Board Charger (OBC) is the equipment that charges the high voltage battery of electric vehicle using the 110 ~ 220V AC power. Its maximum output is 6.6 kW and the efficiency is about 91%.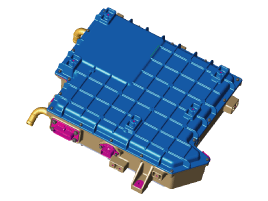 Main Function



Item




Contents




Control




Control the input current power factor




To satisfy the AC power standar




Protect




Limit the maximum output




| | |
| --- | --- |
| • | When exceeds the OBC maximum capacity |

| | |
| --- | --- |
| • | When exceeds the OBC limit temperature |

Troubleshooting




Detect the failure of OBC




Cooperative




control




Cooperative control the driving




Cooperative control with other system at pre scheduling charge / air conditioning



Specification Maximum Output6.6kWOutput Density0.52kVA/?Size327 X 367 X 105 mmICCBApprox. 1.4kWEVSE6.6kW ...
Schematic Diagrams Input Connector (AC) TerminalDescriptionSpecificationCurrent (normal)Voltage (maximum)1Phase voltage (L1)_220VAC33A310VAC2Ground3Phase voltage (L2)_220VAC Output Connector ...
Other information:
Component (1) Connector Pin Information No.Connector AConnector BConnector C1V_BAT CPUAssistant side antenna groundImmobilizer antenna ground2V_BAT LoadAssistant side antenna powerImmobilizer antenna power3Ignition 1Driver side antenna ground-4Ignition 2 relayDriver side antenna power-5Ignitio ...
Description Monitors refrigerant temperature in A/C duct and sends resistance data to A/C controller. (same as the thermistor) Temperature and resistance is inversely proportioned. ...