Kia Soul EV: Air Conditioning System / Ambient Temperature Sensor Description and Operation
The ambient temperature sensor is located at the front of the condenser and detects ambient air temperature. It is a negative type thermistor; resistance will increase with lower temperature, and decrease with higher temperature.
The sensor output will be used for discharge temperature control, temperature regulation door control, blower motor level control, mix mode control and in-car humidity control.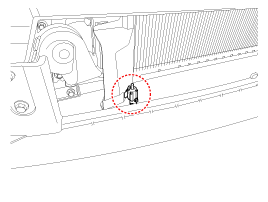 Inspection 1. Turn the ignition switch ON. 2. Connect the GDS. 3. Emit intensive light toward the photo sensor using a lamp, and check the output voltage change. 4. The voltage will ri ...
Inspection 1. Turn the ignition switch OFF. 2. Disconnect ambient temperature sensor. 3. Check the resistance of the ambient temperature sensor between terminals 1 and 2 whether it is ch ...
Other information:
Circuit Diagram Connector Pin Information No.Wire harness connectorPanorama motorBlind motor1Ground 1Ground 1Ground 22Glass status signal / Tool glassGlass status signal/ Tool (Parameter)Tool (Parameter)3IGN 2IGN 2-4Up switchUp switch-5---6Battery 1Battery 1Battery 27Ground 2SerialSerial8Vehic ...
Description Battery Current Sensor is installed in the Power Relay Assembly and it measures the current when the high voltage battery is being charged or discharged. [With High Voltage Battery Heater System] 1. Main Relay (+)2. Main Relay (-)3. Pre Charge Relay4. Pre Charge Resistor5. B ...
Copyright © www.ksoulev.com 2020-2022