Kia Soul EV: Air Conditioning System / Ambient Temperature Sensor Description and Operation
The ambient temperature sensor is located at the front of the condenser and detects ambient air temperature. It is a negative type thermistor; resistance will increase with lower temperature, and decrease with higher temperature.
The sensor output will be used for discharge temperature control, temperature regulation door control, blower motor level control, mix mode control and in-car humidity control.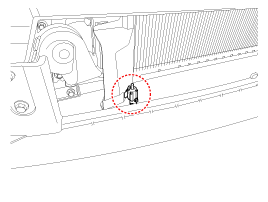 Inspection 1. Turn the ignition switch ON. 2. Connect the GDS. 3. Emit intensive light toward the photo sensor using a lamp, and check the output voltage change. 4. The voltage will ri ...
Inspection 1. Turn the ignition switch OFF. 2. Disconnect ambient temperature sensor. 3. Check the resistance of the ambient temperature sensor between terminals 1 and 2 whether it is ch ...
Other information:
Inspection 1. Lift the vehicle. 2. Remove the under cover. (Refer to Traction Motor System - "under cover") 3. Remove the oil filler plug (A). 4. Check the oil condition and then oil level (A). If the oil level is low, supplement the oil up to filler pl ...
Replacement • Put on gloves to protect your hands. • When prying with a flat-tip screwdriver, wrap it with protective tape, and apply protective tape around the related parts, to prevent damage. • Us ...