Kia Soul EV: Air Conditioning System / Ambient Temperature Sensor Description and Operation
The ambient temperature sensor is located at the front of the condenser and detects ambient air temperature. It is a negative type thermistor; resistance will increase with lower temperature, and decrease with higher temperature.
The sensor output will be used for discharge temperature control, temperature regulation door control, blower motor level control, mix mode control and in-car humidity control.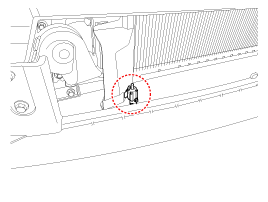 Inspection 1. Turn the ignition switch ON. 2. Connect the GDS. 3. Emit intensive light toward the photo sensor using a lamp, and check the output voltage change. 4. The voltage will ri ...
Inspection 1. Turn the ignition switch OFF. 2. Disconnect ambient temperature sensor. 3. Check the resistance of the ambient temperature sensor between terminals 1 and 2 whether it is ch ...
Other information:
Component (1) Connector Pin Information No.Connector AConnector BConnector C1V_BAT CPUAssistant side antenna groundImmobilizer antenna ground2V_BAT LoadAssistant side antenna powerImmobilizer antenna power3Ignition 1Driver side antenna ground-4Ignition 2 relayDriver side antenna power-5Ignitio ...
Removal • Be sure to read and follow the "General Safety Information and Caution" before doing any work related with the high voltage system. Failure to follow the safety instructions may result in serious electrical injuries. • Be sure ...