Kia Soul EV: Air Conditioning System / Ambient Temperature Sensor Description and Operation
The ambient temperature sensor is located at the front of the condenser and detects ambient air temperature. It is a negative type thermistor; resistance will increase with lower temperature, and decrease with higher temperature.
The sensor output will be used for discharge temperature control, temperature regulation door control, blower motor level control, mix mode control and in-car humidity control.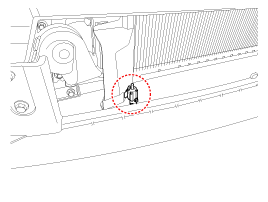 Inspection 1. Turn the ignition switch ON. 2. Connect the GDS. 3. Emit intensive light toward the photo sensor using a lamp, and check the output voltage change. 4. The voltage will ri ...
Inspection 1. Turn the ignition switch OFF. 2. Disconnect ambient temperature sensor. 3. Check the resistance of the ambient temperature sensor between terminals 1 and 2 whether it is ch ...
Other information:
Function Of Safety Power Window When driver door power window auto-up switch is operated, safety function is activated. 1. Safety function condition If a force of 100N or over is detected (using a 10N/mm spring) while pulling up the window, the window automatically reverses and pulls down. ...
Description The Seat Belt Pretensioners (BPT) are installed inside Center Pillar (LH & RH). When a vehicle crashes with a certain degree of frontal impact, the pretensioner seat belt helps to reduce the severity of injury to the front seat occupants by retracting the seat belt webbing ...
Copyright © www.ksoulev.com 2020-2021