Kia Soul EV: AVN System / Troubleshooting
Troubleshooting (In stages)
Trouble Symptom




Probable Cause




Remedy




System does not turn on when power switch is pressed




Radio receiver power source circuit




R-1




LCD module




R-1




Panel switch does not function




Steering pad switch circuit




R-3




AVN head unit front PCB ass''y




R-1




Radio receiver power source circuit




R-1




No sound can be heard from speakers




Radio receiver power source circuit




R-1




Check the wiring between speakers and AVN H/U




R-6




Noise occurs




Proceed to "noise occurs"




R-5




Radio broadcast cannot be received (poor reception)




Proceed to "radio broadcast cannot be received"




(poor reception)




R-4




Radio receiver lamp does not operate when light control switch is on




Illumination circuit




R-6




Radio receiver power source circuit




R-1




Display does not dim out when light control switch is on




Illumination circuit




R-6




Power does not turn off




AVN H/U




R-1




Bluetooth voice recognition fault




AVN H/U




R-1




MIC input




R-7




USB I/F error




AVN head unit




R-1




USB device fault




R-8




Check the multimedia connector




R-8




iPod I/F error




AVN H/U




R-1




Check the multimedia connector




R-8




AUX connection error




AVN H/U




R-1




Check the multimedia connector




R-8



R-1 : Replace the AVN head unit
1.

Check the same problem after replacing the AVN H/U.

| | |
| --- | --- |
| OK | ? If AVN is operating normally, replace the AVN H/U. |




| | |
| --- | --- |
| NG | ? Check the vehicle wiring. (Refer to removal procedure, R-2) |



R-2 : Check the power connection of AVN H/U
2.

Check the specified condition of terminal.




| | | |
| --- | --- | --- |
| Tester Connection | Condition | Specified Condition |
| CON-B11/B12 - GND (B+) | Always | 9 ~ 16 V |
| CON-B18 - GND (ACC) | Always | 9 ~ 16 V |
| CON-B23 - GND | Always | Below 1? |
| CON-B24 - GND | Always | Below 1? |




| | |
| --- | --- |
| NG | ? Check again after repairing or replacing the cable harness or connector. |



R-3 : Check the steering wheel remote control
1.

Check the steering wheel remote control connector specification (Refer to "Audio remote control inspection")




| | |
| --- | --- |
| NG | ? Replace the steering wheel remote control switch |



R-4 : Radio broadcast cannot be received (Bad reception)
1.

Check the radio broadcast reception after replacing the AVN H/U

| | |
| --- | --- |
| OK | ? If AVN is operating normally, replace the AVN H/U. |






2.

| | |
| --- | --- |
| OK | ? Check the radio broadcast reception again after connecting the antenna jack. |






3.

Check the antenna amp input voltage (Refer to "Antenna –Glass antenna circuit inspection")

| | |
| --- | --- |
| OK | ? Check the antenna amp input voltage (Refer to "Antenna –Antenna cable") |






4.

Check the feeder cable connection (Refer to "Antenna –Antenna cable")

| | |
| --- | --- |
| OK | ? Check again after repairing or replacing the antenna feeder cable. |






| | |
| --- | --- |
| 5. | Check and repair the roof antenna. |
R-5 : Check that speakers are installed tightly
| | |
| --- | --- |
| OK | ? Install the speakers tightly |
| | |
| --- | --- |
| NG | ? Install the speakers tightly |
1.

Conditions of Noise Occurrences




Noise Type




Depressing accelerator pedal increases noise, and stopping engine stops noise immediately




Generator noise




When A/C or heater is operating




Blower motor noise




| | |
| --- | --- |
| • | When rapidly accelerating on unpaved road |

| | |
| --- | --- |
| • | When engine switch is turned on (IG) |

Fuel pump noise




| | |
| --- | --- |
| • | When horn switch is pressed and released |

| | |
| --- | --- |
| • | When horn switch is pressed and held down |

Horn noise




Running engine causes soft noise, and stopping engine stops noise immediately




Ignition noise




Noise occurs synchronously with turn signal flash




Flasher noise




Noise occurs during window washer operation




Washer noise




Running engine causes noise, but stopping engine does not stop noise




Engine coolant temperature sensor noise




When wiper is operating




Wiper noise




When brake pedal is depressed




Stop light switch noise




Other




Static electricity on vehicle






R-6 : Check again after replacing the AVN H/U

1.

Check the input signal of illumination (+)

| | | |
| --- | --- | --- |
| Tester Connection | Condition | Specificed Condition |
| CON-A8 - GND | Always | 9~16 V |




| | |
| --- | --- |
| OK | ? Check the vehicle wiring |






2.

Check the illumination (-) input signal using the oscilloscope

| | | |
| --- | --- | --- |
| Tester Connection | Condition | Specificed Condition |
| CON-A17 - GND | Always | Check the PWM waveform |




| | |
| --- | --- |
| OK | ? Check the vehicle wiring and cluster PWM output |






| | |
| --- | --- |
| 3. | Check the vehicle illumination control unit |
R-7 : Check the microphone input condition

| | | |
| --- | --- | --- |
| Tester Connection | Condition | Specificed Condition |
| CON-B10 - MIC (+) | Always | Below 1? |
| CON-B22 - MIC (-) | Always | Below 1? |
| CON-B22 - GND | Always | Open |
| | |
| --- | --- |
| OK | ? Check the vehicle wiring and microphone |
| | |
| --- | --- |
| 1. | Test again after replacing the microphone |
R-8 : Test after replacing the AVN H/U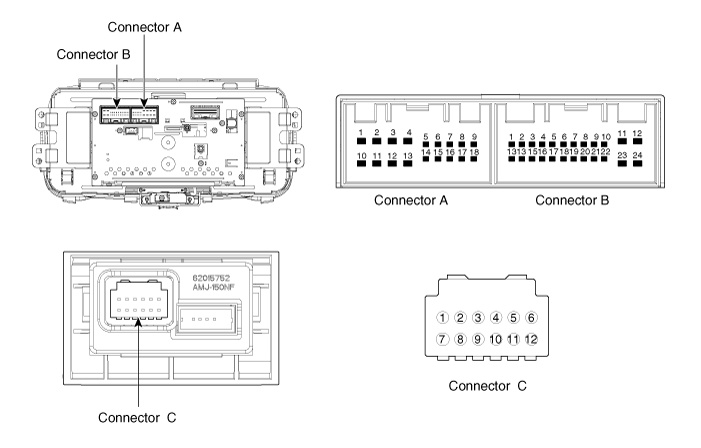 1.

Test after replacing the multimedia jack

| | |
| --- | --- |
| OK | ? Replace the multimedia jack |






2.

Check the vehicle USB cable.

| | |
| --- | --- |
| OK | ? Replace the vehicle USB cable |






3.

Check the multimedia jack connector

| | | |
| --- | --- | --- |
| Tester Connection | Condition | Specificed Condition |
| AVN H/U CON-B8 - Multimedia jack CON-C2 | Always | Below 1? |
| AVN H/U CON-B21 - Multimedia jack CON-C1 | Always | Below 1? |
| AVN H/U CON-B20 - Multimedia jack CON-C3 | Always | Below 1? |
| AVN H/U CON-B9 - Multimedia jack CON-C7 | Always | Below 1? |



Troubleshooting (Flow chart type)
There are six areas where a problem can occur
: the power system, the LCD/LED system, the sound system, the radio system, the USB/iPod/AUX system, and the bluetooth system.
Troubleshooting enables you to narrow down to the specific cause of the problem.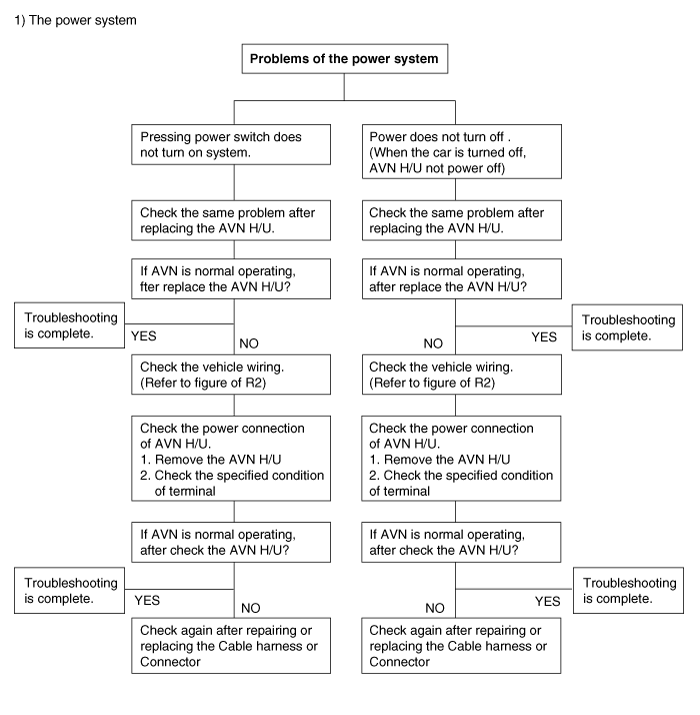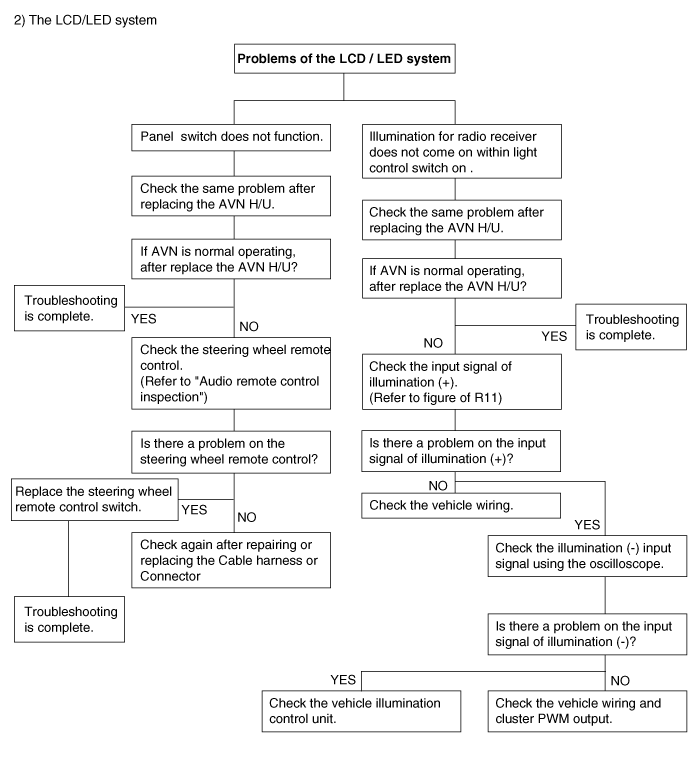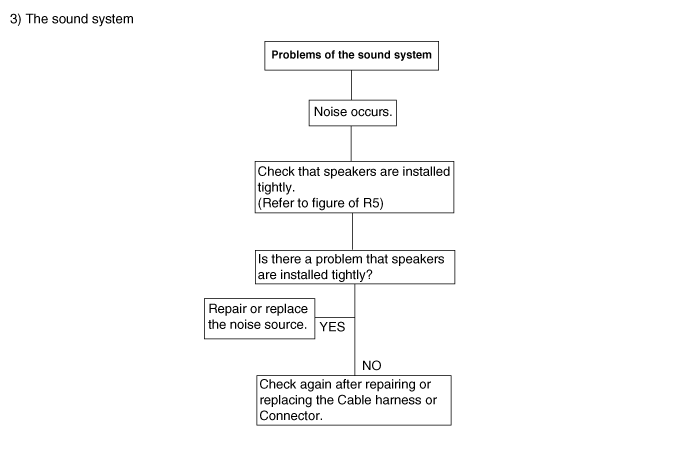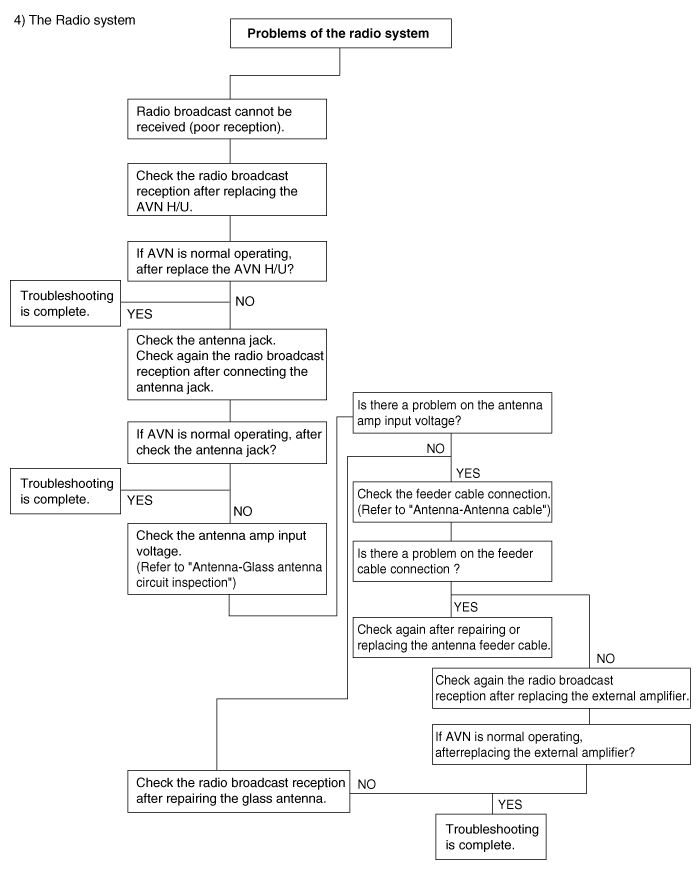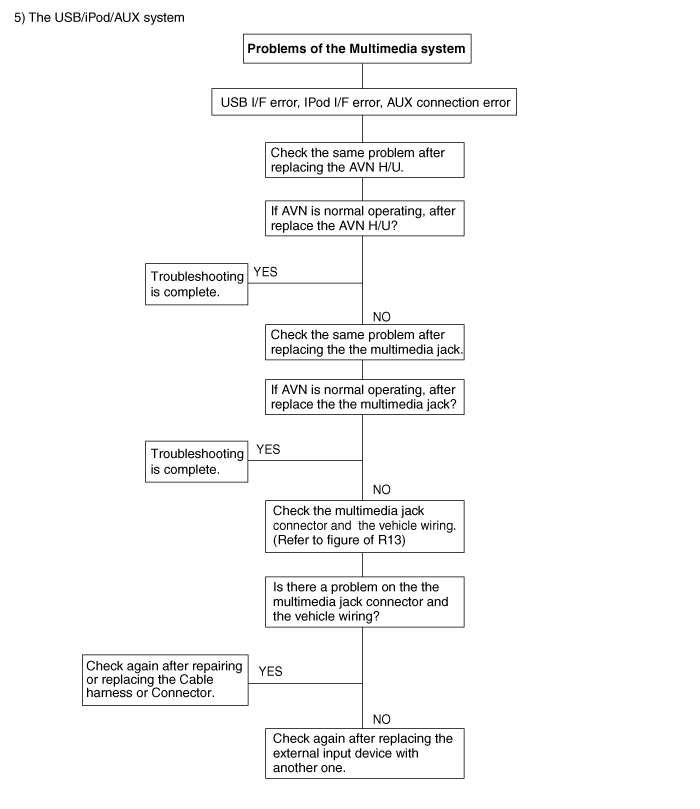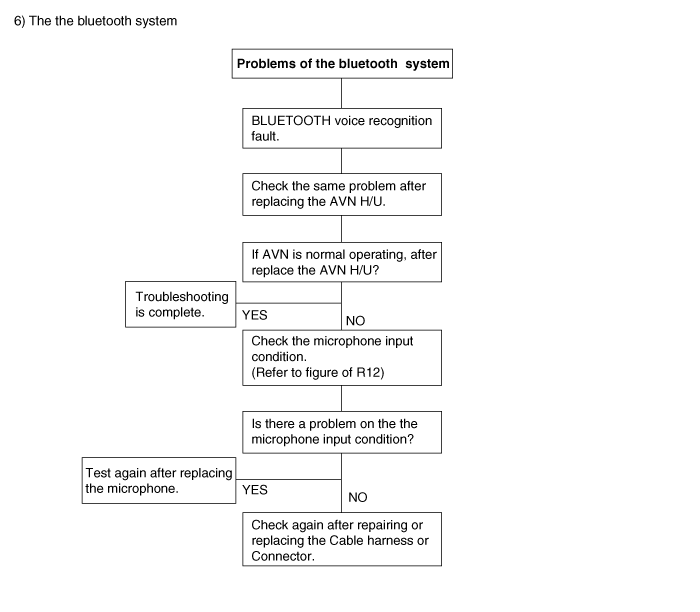 Removal 1. Disconnect the negative (-) battery terminal. 2. Disconnect the roof antenna connectors (A). 3. Disconnect the roof antenna power connector (A). 4. Remove the roof antenna a ...
Other information:
Components 1. EPB Unit2. EPB Switch3. Brake Caliper 4. EPB Warning Lamp5. Brake Warning Lamp ...
Replacement 1. Remove the front seat belt upper anchor. (Refer to Front Seat Belt - "Front Seat Belt Pretensioner") 2. After loosening the mounting bolts, remove the height adjust (A). Tightening torque : 39.2 ~ 53.9 N.m (4.0 ~ 5.5kgf.m, 28.9 ~ 39.8 lb-ft) 3. Install in the rever ...