Kia Soul EV: High Voltage Charging System / Quick Charge Description and Operation
Rapid charge charges the battery using high voltage on a quick charge stand.
The electric power goes directly to the battery through the rapid charge port. To protect the battery, it is charged up to 84% in the first charge, and this can be recharged upto 95% in the second charge.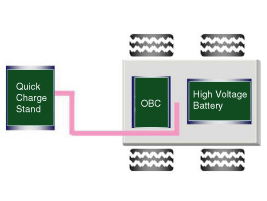 Quick charge relay and PRA relay safely protect the rapid charge port by cutting the current to rapid charge port. The current flows through the quick charge relay and the PRA relay only when the connector is connected to rapid charge port.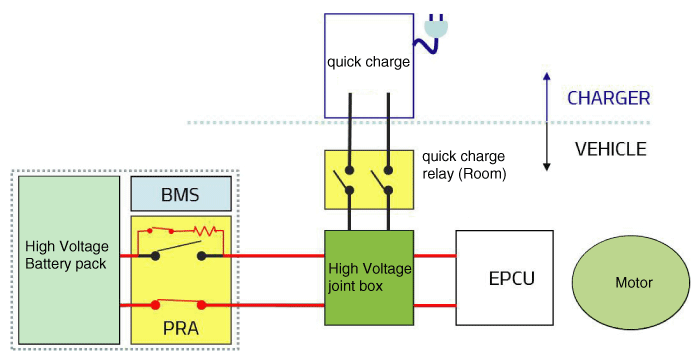 Specification Output 100kWDC 500V, 200A50kWDC 450V, 110A ...
Description Charge port consists of normal charge port (1) and the rapid charge port (2) in the front of vehicle. The charge starts when the ICCB or the quick charge coonnector is connected to ...
Other information:
Specification Temperature (°C)Resistance (K?)Tolerance (%)-40204.5±4.0-30117.8±3.5- 2070.34±3.0- 1043.43±2.5027.63±2.01018.07±1.62012.11±1.2308.303±1.2405.813±1.5504.149±1.9603.013±2.2702.225±2.5 ...
Replacement [Without Heat Pump] 1. Remove the condenser, and then use an L wrench to remove the bottom cap (B) from the condenser. Tightening torque : 9.8 ~ 14.9 N.m (1.0 ~ 1.5 kgf.m, 7.2 ~ 10.8 lb-ft) 2. Remove the desiccant (A) from the condenser using a long nose plier. Che ...