Kia Soul EV: AVN System / Multimedia Jack Description and Operation
Using the added option of multimedia jack on the console upper cover, users can link their external portable music players such as MP3 and iPod to the vehicle''s sound system via this jack.
If the output level of the external media does not match the specifications of the AUX input, sound distortions may occur although the audio unit is not defective.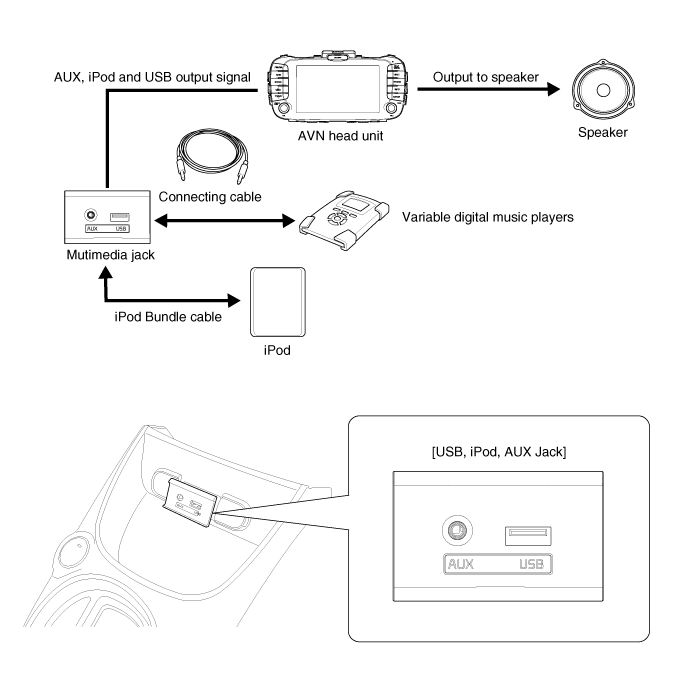 Removal 1. Disconnect the negative (-) battery terminal. 2. Remove the floor console upper cover. (Refer to Body - "Floor Console Assembly") 3. Remove the multimedia jack (A). Installati ...
Other information:
Description Condenses high temp-high pressure refrigerant when in A/C Mode (same role as the condenser in a conventional system). Evaporates low temp-low pressure refrigerant when in Heating Mode (same role as the evaporator in a conventional system). It is designed as down-flow type to facilit ...
Specification Air Conditioner ItemSpecificationCompressorTypeESC33n (Electric Scroll)Communication typeCAN communicationOil type & CapacityPOE OIL, 180±10gMotor typeBLDCRated voltage360VOperation voltage240~413VDisplacement33cc/revCondensorHeat rejection13,400 -3% kcal/hrAir pressure tran ...