Kia Soul EV: Air Conditioning System / In-car Sensor Description and Operation
The In-car air temperature sensor is integrated into the heater & A/C control unit.
The sensor contains a thermistor which measures the temperature of the inside. The signal decided by the resistance value which changes in accordance with perceived inside temperature, is delivered to heater control unit and according to this signal the control unit regulates in-car temperature to intended value.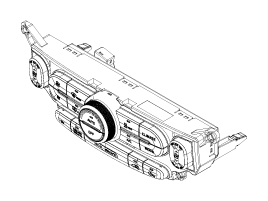 Inspection 1. Turn the ignition switch OFF. 2. Disconnect the evaporator temperature sensor connector. 3. Measure the resistance between terminals "1" and "2" of the evaporator temperature ...
Description The photo sensor is located at the center of the defrost nozzles. The photo sensor contains a photovoltaic (sensitive to sunlight) diode. The solar radiation received by its light r ...
Other information:
Special Service Tools Tool Name / NumberIllustrationDescription09581-11000Piston expanderUsed when spreading the front and rear disc brake piston.09580-3D100Air bleeding toolUsed when bleeding the air in the brake system.0K585-E8100Brake air bleeding adapterUsed when bleeding the air in the br ...
Component Location 1. Hood lower latch assembly ...