Kia Soul EV: High Voltage Battery System / Description and Operation
High Voltage Battery System Assembly
| | |
| --- | --- |
| – | To provide the 360V high voltage electric energy to electric motor |
| | |
| --- | --- |
| – | To save the electric energy generated by regenerative braking system |
| | |
| --- | --- |
| – | Charged by rapid charge or normal charge |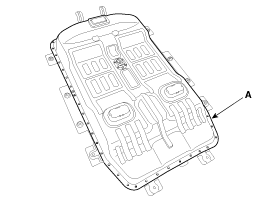 High Voltage Battery Pack Assembly
Type : Lithium Ion Polymer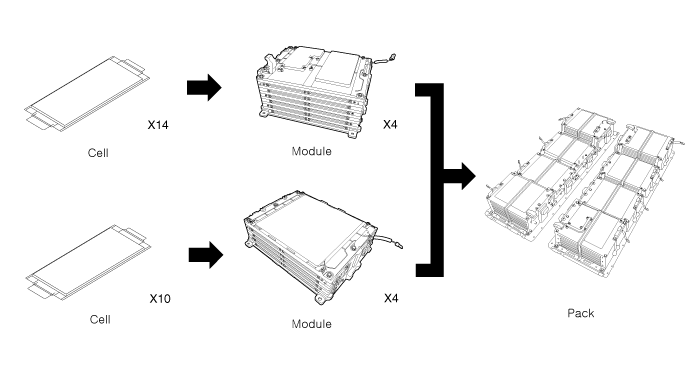 Cell : Minimum unit which saves the electric energy converted from the chemical energy
Module : A number of cells in series
Pack : A number of modules in series
Components High Voltage Battery System Assembly 1. High Voltage Battery System Assembly2. High Voltage Battery Pack Assembly3. PRA (Power Relay Assembly) 4. Case5. QRA (Quick Charge Relay Asse ...
System Diagram High Voltage Battery System Assembly System Circuit Diagram ...
Other information:
Description Back view camera will activate when the backup light is ON with the ignition switch ON and the shift lever in the R position. This supplemental system shows the back of the vehicle on the monitor when the vehicle is backing up. This system is a supplment ...
Specifications ItemsBulb Wattage (W)Bulb TypeFrontHead lamp (High)H7LL55Head lamp (Low)H7LL55Turn signal lampLEDLEDPosition lampLEDLEDFog lamp559006DRLLEDLEDSide marker5W5WSide repeater lamp (O/S mirror)LEDLEDRearTail/Stop lampLEDLEDTail lamp and side markerLEDLEDTurn signal lamp27PY27WBack up ...
Copyright © www.ksoulev.com 2020-2022