Kia Soul EV: High Voltage Battery System / Description and Operation
High Voltage Battery System Assembly
| | |
| --- | --- |
| – | To provide the 360V high voltage electric energy to electric motor |
| | |
| --- | --- |
| – | To save the electric energy generated by regenerative braking system |
| | |
| --- | --- |
| – | Charged by rapid charge or normal charge |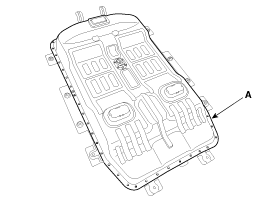 High Voltage Battery Pack Assembly
Type : Lithium Ion Polymer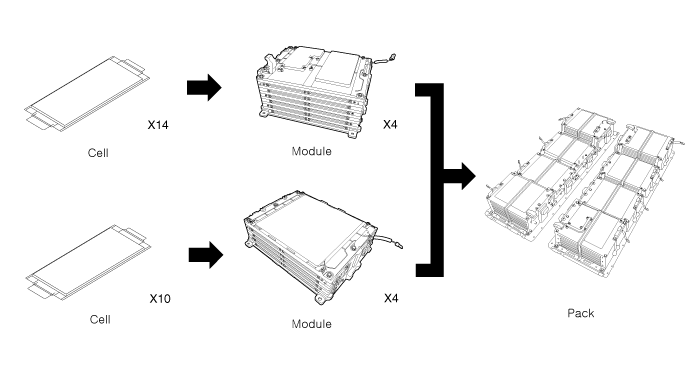 Cell : Minimum unit which saves the electric energy converted from the chemical energy
Module : A number of cells in series
Pack : A number of modules in series
Components High Voltage Battery System Assembly 1. High Voltage Battery System Assembly2. High Voltage Battery Pack Assembly3. PRA (Power Relay Assembly) 4. Case5. QRA (Quick Charge Relay Asse ...
System Diagram High Voltage Battery System Assembly System Circuit Diagram ...
Other information:
Removal 1. Loosen the windshield wiper arm nut (B) after removing the wiper cap (A). 2. Remove the windshield wiper arm and blade. 3. If necessary, release the wiper blade fixing clip by pulling up and remove the wiper blade from the inside radius of wiper arm. 4. Disconnect the wash ...
Inspection 1. Check for resistance between terminals in each switch position. [Voice + Bluetooth] [Voice + Bluetooth] SwitchConnector terminalResistance (±5%)Output voltage (± 0.22)Voice2-410.71 k?3.5 V ± 0.22Call off2-418.91 k?4.0 V ± 0.22Call2-440.91 k?4.5 V ± 0.22 Removal 1. ...