Kia Soul EV: Audio / AUX(Auxiliary) Jack Description and Operation
The AUX, iPod and USB JACK on the center console is for customers who like to listen to external portable music players like the MP3, iPod, earphone, USB memory stick, CD player and etc., through the vehicle''s sound system when it is linked to this jack.
If sound distortion occurs it may be due to a mismatch of specifications between units.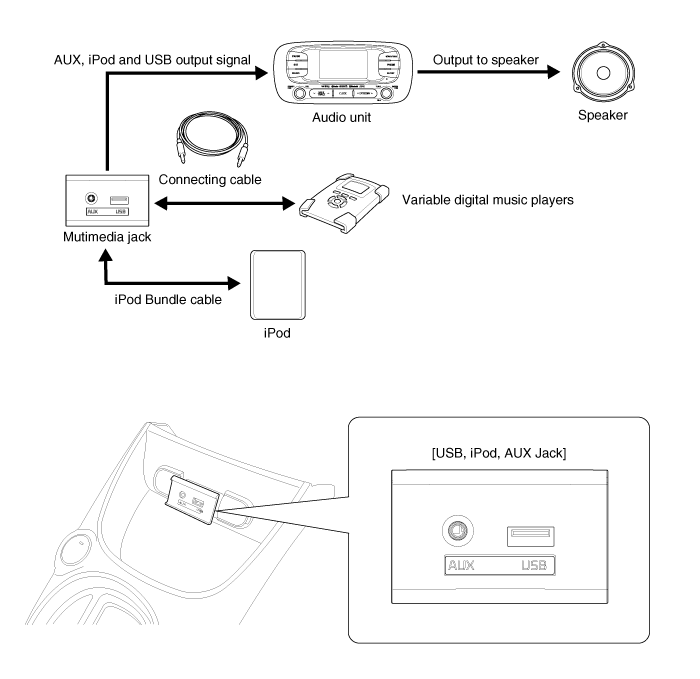 Removal 1. Disconnect the negative (-) battery terminal. 2. Remove the floor console upper cover. (Refer to Body - "Floor Console Assembly") 3. Remove the multimedia jack (A). Installati ...
Other information:
Replacement • Put on gloves to protect your hands. • When prying with a flat-tip screwdriver, wrap it with protective tape, and apply protective tape around the related parts, to prevent damage. • Us ...
Description The cluster ionizer makes disinfection and decomposition of bad smell from the air-conditioner or inflow air. And it cleans the inside air of a vehicle. When the air-conditioner or heater is operating, it starts from "CLEAN" mode and alternates from "CLEAN" mode to "ION" mode a ...
Copyright © www.ksoulev.com 2020-2022