Kia Soul EV: Audio / AUX(Auxiliary) Jack Description and Operation
The AUX, iPod and USB JACK on the center console is for customers who like to listen to external portable music players like the MP3, iPod, earphone, USB memory stick, CD player and etc., through the vehicle''s sound system when it is linked to this jack.
If sound distortion occurs it may be due to a mismatch of specifications between units.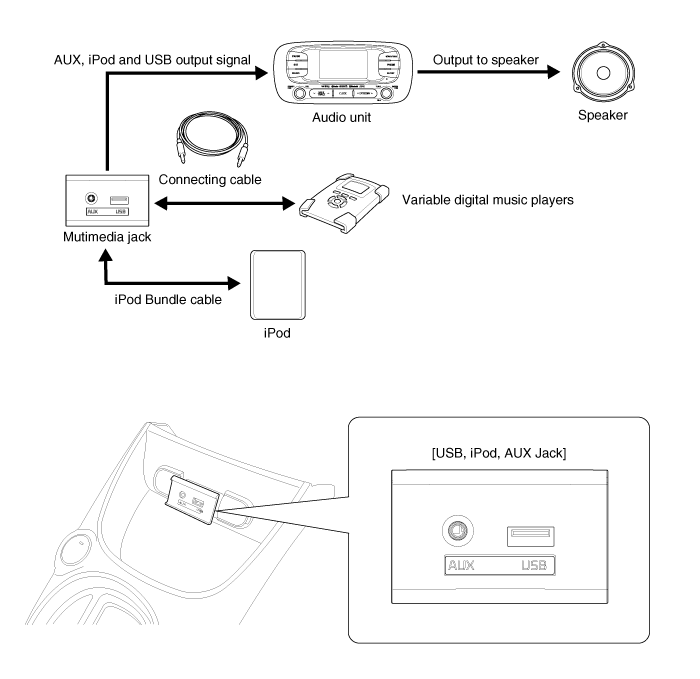 Removal 1. Disconnect the negative (-) battery terminal. 2. Remove the floor console upper cover. (Refer to Body - "Floor Console Assembly") 3. Remove the multimedia jack (A). Installati ...
Other information:
Removal • Put on gloves to protect your hands. • Use seat covers to avoid damaging any surfaces. 1. Remove the rear pillar trim. (Refer to Interior Trim - "Rear Pillar Trim") 2. Loosen the quarter fixed g ...
Description Switches the valve outlet direction through electric signal to change refrigerant flow direction. Directs refrigerant flow towards chiller when heating pump is activated. Directs refrigerant flow towards radiator during normal condition. 1. Towards radiator2. Towards chiller3. I ...
Copyright © www.ksoulev.com 2020-2021