Kia Soul EV: Heat Pump / Accumulator Description and Operation
Separates refrigerant in gas/liquid state so that only the refrigerant in gas state can flow into the compressor.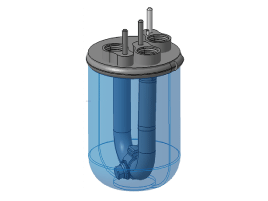 Components Location 1. Accumulator ...
Replacement 1. Recover the refrigerant with a recovery/ recycling/ charging station. • Do not use the same A/C recovery / charging station as conventional b ...
Other information:
Inspection 1. Check for resistance or output voltage between terminals in each switch position. [Audio] SwitchConnector terminalResistance (±5%)Output voltageSeek up2-4430 ?0.4 V ± 0.22Seek down2-41.1 k?1.0 V ± 0.22Mode2-42.11 k?1.5 V ± 0.22Mute2-43.11 k?2.0 V ± 0.22Volume up2-44.61 k?2 ...
Description TREAD Lamp – Tire Under Inflation / Leak Warning. 1. Turn on condition • When tire pressure is below allowed threshold • When rapid leak is detected by the sensor. • Indicates that tire needs to be re-inflated to placard pressure / repai ...
Copyright © www.ksoulev.com 2020-2021