Kia Soul EV: Heat Pump / Refrigerant Temperature Sensor Description and Operation
Monitors refrigerant temperature in A/C duct and sends resistance data to A/C controller. (same as the thermistor)
Temperature and resistance is inversely proportioned.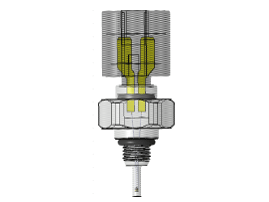 Components Location 1. Refrigerant Temperature Sensor #1 2. Refrigerant Temperature Sensor #2 ...
Inspection 1. Vcc2. Ground Check the voltage between terminals 6 and 7. 1. Using the tester, check the resistance between terminals 1 and 2. TemperatureResistance°C°FSpecification ...
Other information:
Replacement 1. Remove the front bumper. (Refer to Front Bumper - "Front Bumper Cover") 2. Loosen the screws, and then remove the charge door open cover lamp (A). 3. Disconnect the notification for charge door open cover actuator (A) and charge door opener cover lamp connector (B). 4. ...
Removal 1. Disconnect the negative(-) battery terminal. 2. Remove the front wheel guard. (Refer to Body - "Front Bumper") 3. Disconnect the VESS connector (A). 4. Remove the VESS speaker (A) after loosening the mounting bolts. Installation 1. Install the VESS speaker and conne ...