Kia Soul EV: Heat Pump / Refrigerant Temperature Sensor Description and Operation
Monitors refrigerant temperature in A/C duct and sends resistance data to A/C controller. (same as the thermistor)
Temperature and resistance is inversely proportioned.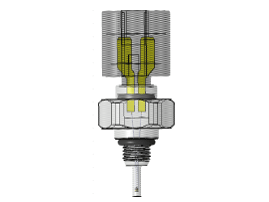 Components Location 1. Refrigerant Temperature Sensor #1 2. Refrigerant Temperature Sensor #2 ...
Inspection 1. Vcc2. Ground Check the voltage between terminals 6 and 7. 1. Using the tester, check the resistance between terminals 1 and 2. TemperatureResistance°C°FSpecification ...
Other information:
Description Electric compressors improve the fuel efficiency and operates the air conditioner even when the engine has stopped. Operation Principle Compression Part One of the scrolls is fixed while the other orbits eccentrically without self-rotating, thereby to trap and pump refrigeran ...
Replacement [Center pillar lower trim] • Put on gloves to protect your hands. • When prying with a flat-tip screwdriver, wrap it with protective tape, and apply protective tape around the related parts, to prev ...
Copyright © www.ksoulev.com 2020-2022