Kia Soul EV: Heat Pump / Refrigerant Temperature Sensor Description and Operation
Monitors refrigerant temperature in A/C duct and sends resistance data to A/C controller. (same as the thermistor)
Temperature and resistance is inversely proportioned.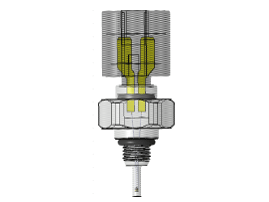 Components Location 1. Refrigerant Temperature Sensor #1 2. Refrigerant Temperature Sensor #2 ...
Inspection 1. Vcc2. Ground Check the voltage between terminals 6 and 7. 1. Using the tester, check the resistance between terminals 1 and 2. TemperatureResistance°C°FSpecification ...
Other information:
Inspection 1. Disconnect the negative (-) battery terminal. 2. Remove the overhead console lamp. (Refer to Body Electrical - "Overhead Console Lamp") 3. Remove the hands free mic (A) from the overhead console lamp by loosening the mounting screws. No.Description1Mic (+)2Mic (-) ...
Replacement • Be sure to read and follow the "General Safety Information and Caution" before doing any work related with the high voltage system. Failure to follow the safety instructions may result in serious electrical injuries. • Be s ...
Copyright © www.ksoulev.com 2020-2021