Kia Soul EV: Heat Pump / Outer Condenser Description and Operation
Condenses high temp-high pressure refrigerant when in A/C Mode (same role as the condenser in a conventional system).
Evaporates low temp-low pressure refrigerant when in Heating Mode (same role as the evaporator in a conventional system).
It is designed as down-flow type to facilitate condensed liquid discharge.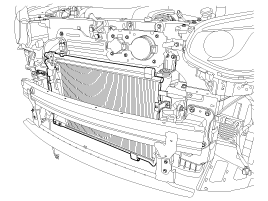 Components Location 1. Outer Condenser ...
Replacement • Be sure to read and follow the "General Safety Information and Caution" before doing any work related with the high voltage system. Failu ...
Other information:
Circuit Diagram Connector Pin Information No.Wire harness connectorPanorama motorBlind motor1Ground 1Ground 1Ground 22Glass status signal / Tool glassGlass status signal/ Tool (Parameter)Tool (Parameter)3IGN 2IGN 2-4Up switchUp switch-5---6Battery 1Battery 1Battery 27Ground 2SerialSerial8Vehic ...
Description The ambient temperature sensor is located at the front of the condenser and detects ambient air temperature. It is a negative type thermistor; resistance will increase with lower temperature, and decrease with higher temperature. The sensor output will be used for discharge tem ...