Kia Soul EV: Heat Pump / Chiller Description and Operation
Recycles waste electric heat by using the waste heat from electrical motor to exchange heat in low temperature refrigerant.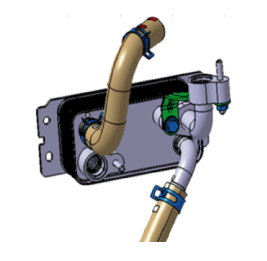 Components Location 1. Chiller ...
Replacement 1. Recover the refrigerant with a recovery/ recycling/ charging station. • Do not use the same A/C recovery / charging station as conventional b ...
Other information:
Replacement • Put on gloves to protect your hands. • When prying with a flat-tip screwdriver, wrap it with protective tape, and apply protective tape around the related parts, to prevent damage. • Us ...
Component 1. High Voltage Battery Heater2. High Voltage Battery Heater Relay3. High Voltage Battery Heater Fuse4. High Voltage Battery Heater Temperature Sensor ...