Kia Soul EV: Heat Pump / Chiller Description and Operation
Recycles waste electric heat by using the waste heat from electrical motor to exchange heat in low temperature refrigerant.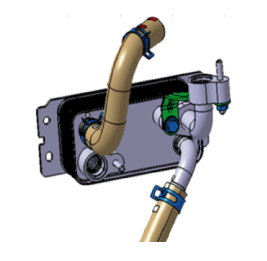 Components Location 1. Chiller ...
Replacement 1. Recover the refrigerant with a recovery/ recycling/ charging station. • Do not use the same A/C recovery / charging station as conventional b ...
Other information:
Troubleshooting SymptomPossible causeRemedyOnly one lamp lights on(All exterior lamps)Bulb burned outReplace bulbSocket, wiring or ground faultyRepair if necessaryHead lamps do not light onBulb burned outReplace bulbIgnition fuse (LOW:10A, HIGH:20A) blownCheck for short and replace fuseHead lam ...
Components High Voltage Battery System Assembly 1. High Voltage Battery System Assembly2. High Voltage Battery Pack Assembly3. PRA (Power Relay Assembly) 4. Case5. QRA (Quick Charge Relay Assembly) ...
Copyright © www.ksoulev.com 2020-2021