Kia Soul EV: Air Conditioning System / A/C Pressure Transducer Description and Operation
The A/C Pressure Transducer (APT) converts the pressure value of high pressure line into voltage value after measuring it. Engine ECU converts the voltage value to control the cooling fan by operating it in high speed or low speed. Engine ECU stops the operation of the compressor when the temperature of refrigerant line is very high or very low irregularly to optimize air conditioning system.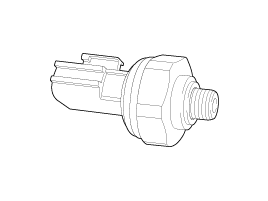 Component Location [Without Heat Pump] 1. A/C pressure transducer [With Heat Pump] 1. A/C pressure transducer ...
Inspection 1. Measure the pressure of high pressure line by measuring voltage output between terminals No. 1 and No. 2. 2. Inspect the voltage value whether it is within the specified range. ...
Other information:
Replacement 1. Drain the coolant. (Refer to Traction Motor System - "Coolant") 2. Disconnect the negative (-) battery terminal. 3. Disconnect the 3-WAY solenoid coolant valve connector (A). 4. Remove the 3-WAY coolant valve connector fixing clip (B). 5. Remove the coolant hose ( ...
EPB Circuit Diagram (1) EPB Circuit Diagram (2) EPB connector input/output Pin DescriptionPin Description1WC-CAN (High)21G/BCenter Fascia Switch (ElectronicParking Brake Switch (SW3))2BrC-CAN (Low)22--3--23--4--24--5--25--6--26--7--27GCenter Fascia Switch (ElectronicParking Brake ...
Copyright © www.ksoulev.com 2020-2021