Kia Soul EV: Air Conditioning System / A/C Pressure Transducer Description and Operation
The A/C Pressure Transducer (APT) converts the pressure value of high pressure line into voltage value after measuring it. Engine ECU converts the voltage value to control the cooling fan by operating it in high speed or low speed. Engine ECU stops the operation of the compressor when the temperature of refrigerant line is very high or very low irregularly to optimize air conditioning system.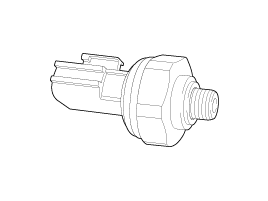 Component Location [Without Heat Pump] 1. A/C pressure transducer [With Heat Pump] 1. A/C pressure transducer ...
Inspection 1. Measure the pressure of high pressure line by measuring voltage output between terminals No. 1 and No. 2. 2. Inspect the voltage value whether it is within the specified range. ...
Other information:
Removal 1. Disconnect the negative (-) battery terminal. 2. Remove the steering wheel. (Refer to Steering System - "Steering Wheel") 3. Remove the steering column upper and lower shrouds. (Refer to Body - "Steering Column Shroud Panel") 4. Remove the clock spring. (Refer to Restra ...
Removal 1. Disconnect the battery negative cable and wait for at least thirty seconds before beginning to work. 2. Remove the roof trim assembly. (Refer to Body - "Roof trim assembly") 3. Disconnect the curtain airbag harness connector (A). 4. After loosening the mounting bolts and ...