Kia Soul EV: Air Conditioning System / A/C Pressure Transducer Description and Operation
The A/C Pressure Transducer (APT) converts the pressure value of high pressure line into voltage value after measuring it. Engine ECU converts the voltage value to control the cooling fan by operating it in high speed or low speed. Engine ECU stops the operation of the compressor when the temperature of refrigerant line is very high or very low irregularly to optimize air conditioning system.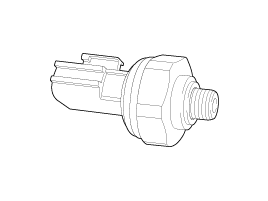 Component Location [Without Heat Pump] 1. A/C pressure transducer [With Heat Pump] 1. A/C pressure transducer ...
Inspection 1. Measure the pressure of high pressure line by measuring voltage output between terminals No. 1 and No. 2. 2. Inspect the voltage value whether it is within the specified range. ...
Other information:
Replacement 1. Discharge refrigerant from refrigeration system. 2. Replace faulty tube or hose. • Cap the open fittings immediately to keep moisture or dirt out of the system. 3. Tighten joint of bolt or nut to specified torque. &nb ...
Components (1) 1. Front door pull cap2. Front door inside handle cap3. Front door quadrant inner cover 4. Front door trim5. Front door belt inside weatherstrip6. Front door belt outside weatherstrip7. Front door panel8. Front door body side weatherstrip9. Front door side weatherstrip10. Front ...