Kia Soul EV: Air Conditioning System / A/C Pressure Transducer Description and Operation
The A/C Pressure Transducer (APT) converts the pressure value of high pressure line into voltage value after measuring it. Engine ECU converts the voltage value to control the cooling fan by operating it in high speed or low speed. Engine ECU stops the operation of the compressor when the temperature of refrigerant line is very high or very low irregularly to optimize air conditioning system.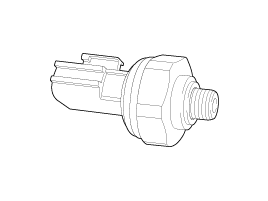 Component Location [Without Heat Pump] 1. A/C pressure transducer [With Heat Pump] 1. A/C pressure transducer ...
Inspection 1. Measure the pressure of high pressure line by measuring voltage output between terminals No. 1 and No. 2. 2. Inspect the voltage value whether it is within the specified range. ...
Other information:
Replacement • Be careful not to damage the fender and body. • When removing the clips, use a clip remover. 1. Remove the head lamps. (Refer to Body Electrical System - "Head Lamps") 2. Remove the A pilla ...
Specification Air Conditioner ItemSpecificationCompressorTypeESC33n (Electric Scroll)Communication typeCAN communicationOil type & CapacityPOE OIL, 180±10gMotor typeBLDCRated voltage360VOperation voltage240~413VDisplacement33cc/revCondensorHeat rejection13,400 -3% kcal/hrAir pressure tran ...