Kia Soul EV: Heat Pump / 3-Way Coolant Valve Description and Operation
Switches the valve outlet direction through electric signal to change refrigerant flow direction.
Directs refrigerant flow towards chiller when heating pump is activated.
Directs refrigerant flow towards radiator during normal condition.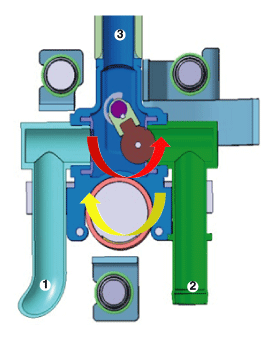 1. Towards radiator




2. Towards chiller




3. Inlet



3-Way Coolant Valve 1. 3-Way Coolant Valve ...
Replacement 1. Drain the coolant. (Refer to Traction Motor System - "Coolant") 2. Disconnect the negative (-) battery terminal. 3. Disconnect the 3-WAY solenoid coolant valve connector (A ...
Other information:
Description and Operation Electric vehicle is powered by transforming electric energy into kinetic energy in the motor and high voltage battery. It can be recharged by high voltage energy via IBC or OBC. Electric motor not only has the role of driving the vehicle but also acts as an alterna ...
Specification Temperature (°C)Resistance (K?)Tolerance (%)-40204.5±4.0-30117.8±3.5- 2070.34±3.0- 1043.43±2.5027.63±2.01018.07±1.62012.11±1.2308.303±1.2405.813±1.5504.149±1.9603.013±2.2702.225±2.5 ...
Copyright © www.ksoulev.com 2020-2021